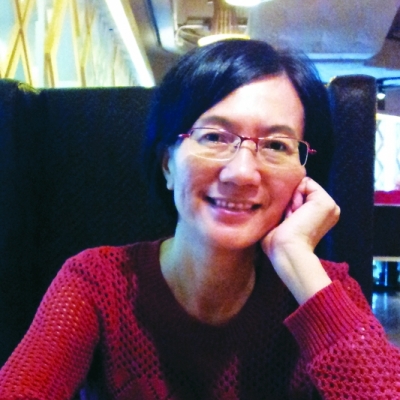 盧婉雯女士
香港浸會大學電影學院
榮休助理教授
yvonlo@hkbu.edu.hk
Education:
M.F.A., Texas Woman's University, Texas
Area of Interests:
Material Culture / Identity Theory / Gendered Material Strategies / Conceptual Documentary Photography / Unconventional Art-photography
Major Highlights:
2015
Guardian of memory. Solo art photo exhibition, Instinct gallery, Singapore, Artist in Residency
Ignite. Solo art photo exhibition, Green Olive Arts, Tetouan, Morocco, Artist in Residency
2014
International Contemporary Art Exhibition. Art Gallery Le Logge, Assisi Council and Arte Studio Ginestrelle, Artist in Residency, Assisi, Italy
瀏覽更多 ...
Education
M.F.A., Texas Woman's University, Texas
Positions Held
| | | |
| --- | --- | --- |
| 1988 - 1995 | Lecturer | Department of Communication, Hong Kong Baptist College |
| 1986 – 1988 | Lecturer | Department of Design, Caritas Bianchi College of Careers |
| 1979 – 1981 | Reporter | Oriental Daily News, Hong Kong |
Selected Publications or Creative Works
2016
" A Room with A view", art photography group show, Hong Kong International Art Festival, Earl Lu gallery, LaSalle College of Arts
"Tomorrow", art photography group show, Hong Kong Heritage Museum
2015
Guardian of memory. Solo art photo exhibition, Instinct gallery, Singapore, Artist in Residency
Ignite. Solo art photo exhibition, Green Olive Arts, Tetouan, Morocco, Artist in Residency
The 3rd International İzmir Biennale of Arts. Seba Art Gallery, Izmir, Turkey
2014
International Contemporary Art Exhibition. Art Gallery Le Logge, Assisi Council and Arte Studio Ginestrelle, Artist in Residency, Assisi, Italy
2009
記憶千層糕:家庭作業攝影展. 香港賽馬會創意藝術中心
2007
6 Degrees of Separation. Art Exhibition, Edge Gallery
2006
Megart Store, not for sale. Art Exhibition, Hong Kong Heritage Museum, Hong Kong
Hong Kong – More Colors. Documentary photo work for Hong Kong Culture Series, Leisure and Cultural Services Department of Hong Kong
1999
[with D. Lui, K. C. Yuen] Pop Art - Responding Exhibition, MOST Museum, Yuen Long
1998
On Hong Kong - Photography Exhibition 98 (Reviewed by Nu Na He Duo Photo magazine editor group). City Hall Lower Block Central
1997
The difficulties of photography development in Hong Kong. Multiple Perspectives on Hong Kong Cultural Culture 97, 49-64.
Photography and digital aesthetics: A new role for photographers. CMCD Magazine, (January) 41-43
1996
New Images from Hong Kong (photography). Tower Gallery, Yokohama, Japan (Reviewed by Visual Arts Committee, Tower gallery, Japan)
The development of documentary photography in Hong Kong since 1950. The Metropolis, Visual Research into Contemporary Hong Kong
Compiler, Chinese Woman and Modernism, Calendar Posters of the 1910s - 1930s, Joint Publishing (H.K.) Co. Ltd.
1992
Group Exhibition. City Vibrance, Hong Kong Museum of Arts (HKMA) (Reviewed by HKMA)
Professional Association
| | |
| --- | --- |
| Expert Advisors | Photography Section, Hong Kong Heritage Museum |
| Examiner | Visual Arts, Hong Kong Art Development Council |
| External course examiner | The Open University of Hong Kong |
| External specialist | Programme validation panel, Postgraduate diploma in photography, Hong Kong university(SPACE) |
| Founding member | pH5, photo group incubating and promoting the photography culture in Hong Kong |