Faculty, staff and students at the School of Communication are mourning the loss of Dr. Cheung Tit-leung (張鐵樑博士), who passed away on March 21, 2020, aged 37. A part-time lecturer in the Academy of Film's Creative Writing for Film, Television and New Media programme, Dr Cheung had been struggling with cancer.
Professor Eva Man, Director of the Academy of Film, said she was deeply moved by his dedication, noting that he had been determined to continue teaching till the end of the semester, before he was hospitalised in mid-March. "His wit, rich knowledge in cinema studies and dedication to communicating with his students were all truly impressive," she added.
Dr Cheung did his PhD at Lingnan University, researching East Asian documentary film festivals. He was a producer for a number of Hong Kong documentaries, including Yellowing《亂世備忘》(2016) and Ballad on the Shore《岸上漁歌》(2017). His curatorial efforts included the Hong Kong Independent Film Festival (香港獨立電影節) and Autonomous Cinema (自主映室). One of his final initiatives was the Hong Kong Actual Images Association (香港真實影像協會).
Dr Cheung taught documentary, film history and aesthetics to undergraduate and top-up programme students at the Academy of Film from 2017. Students described him as an outstanding teacher who inspired them with his expertise in and passion for cinema studies and documentary filmmaking.
"I will never forget what Dr Cheung taught me in all his classes," said one of his students, Cheng Sze Chit.
Dr Enoch Tam, a colleague, also paid tribute to his contributions as a teacher. "The backbone of a good programme does not consist of large classrooms and fancy equipment. It is made up of the excellent education imparted by teachers like him," Dr Tam said.
Professor Mette Hjort, Dean of HKBU's Faculty of Arts, knew Dr Cheung since his undergraduate days at Lingnan and supervised his PhD studies. "Cheung Tit-leung lived his life fully, with courage, integrity, enormous passion and commitment, and a great sense of purpose," she said. "His generosity knew no bounds and he touched everyone who knew him. He leaves an unfillable void, but also a powerful presence, for he lives on in our memories, in the young lives he helped to guide and shape, and in the many cultural initiatives he spearheaded so tirelessly."
Remembrances of Dr Cheung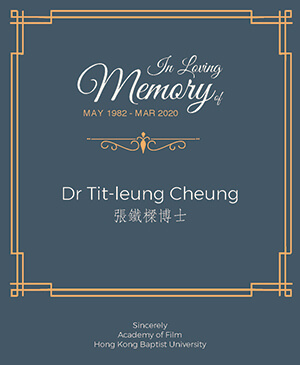 https://drive.google.com/file/d/1Tu0GbIA0cy5v8x-mDgXrgaTBiQmyzHfd/view?usp=sharing