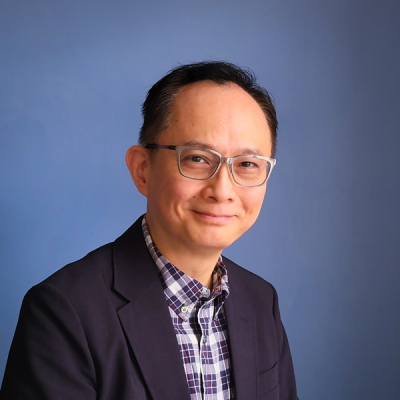 布嘉駿先生
創意電影製作高級文憑課程主任
專業應用副教授
gilbertpo@hkbu.edu.hk
34118100
Education:
MA in Creative Writing/Screenwriting, Southern New Hampshire University ; BFA with Honors in Film, Art Center College of Design, Los Angeles
Area of Interests:
Creative Storytelling / Screenwriting / Film Production / Film Theory and Aesthetics / World Cinema / Film History / Digital Media / Advertising
Major Highlights:

Gilbert is a filmmaker and an advertising creative based in Hong Kong for the last 30 years, working continuously in both the advertising and film industry. He's a veteran in visual storytelling on multiple platforms, an award-winning screenwriter, copywriter, and creative director.
He began his career in Hong Kong with Magnum Films and took part in several local productions. He later returned to Los Angeles where he was represented by Cathryn Jaymes and the Gersh Agency. His early movie credits as a director include a Hong Kong horror film called Obsession (1994) and Assault on Dome 4 (1996) for the USA Sci-Fi Channel.
In 2001, Gilbert came back to Hong Kong to look for a new creative outlet in advertising, he joined FCB Hong Kong and worked there as one of the top creative copywriters in the industry before starting his own advertising company (Creative Dioxide) in 2005. As a creative director, he provided all sorts of creative services for clients from all sectors. His clients included Hong Kong Tourism Board, Macao Government Tourism, Chimelong Ocean Kingdom, Cheung Kong Properties, MTR, and Hong Kong Disneyland.
Gilbert has been teaching film and advertising production at CUHK since 2005. He later joined the HKBU Academy of Film in 2018 where he teaches creative writing and world cinema, He also supervises final-year projects in film and screenwriting for Higher Diploma students.
瀏覽更多 ...
Creative Outputs
Selected Film Projects
骨辱 – Screenwriter
Selected for 2017 NAFF at Bucheon International Fantastic Film Festival
2018 Best Crime Screenplay - Los Angeles Crime and Horror Film Festival
迷惘夜車 - Producer
2015 Network of Asian Fantastic Films Award for HAF in Hong Kong Filmart
Assault on Dome 4 - Director
1996 U.S. Sci-Fi Channel TV Movie of the Month
Starring Bruce Campbell, Brion James, Jack Nance
妒火焚情 – Director
羔羊醫生 – Script Development
情聖 – Assistant Director
1990 Hong Kong movie starring Stephen Chow 周星馳
Selected Advertising Projects
2018

Macao, a UNESCO Creative City of Gastronomy – Creative Director

A 3-min video celebrating Macao becoming the Creative City of Gastronomy for UNESCO

2004

Hong Kong Tourism Board – Senior Creative Copywriter

Produced "Hong Kong – Live it, Love it" Campaign
Gold Award - HSMAI Adrian Award
Best Travel and Tourism Campaign – CASBAA Award
Grand Award – Questar
Golden Compass Award– PRIX ITB
Gold Winner – Galaxy Award

2003

Watsons Water "It's Your Body" Campaign –Senior Creative Copywriter

Certificate of Excellence in Art Direction and Editing - Media Advertising Awards
Past Positions Held
2019 - 2023

Part-time Lecturer- Associate Degree - CIE/HKBU

Classes include Screenwriting, Screenplay Adaptation, Film Appreciation

2018 - 2023

Part-time Lecturer – Higher Diploma – Academy of Film/HKBU

Classes include World Cinema, Creative Writing, Advertising Production, Final Year Project Directing/Screenwriting

2002 - 2023

Part-time Lecturer – Master of Social Science in Advertising – CUHK

Creative Media Content Production

2013 - 2017

School Manager/ Lecturer – Hong Kong International Academy of Film and Television

BTEC Level 5: Writing, Directing, New Media, Production Design, Career Development

2005 - 2023

Creative Director – Creative Dioxide Advertising

Founder of Company
Partial clients include Macao Tourism Office, Chimelong Ocean Kingdom, Amway, Cheung Kong Properties, Alan Chan Design, Nikon, Hong Kong Tourism Board, MTR, Hong Kong Disneyland

2001 - 2005

Senior Creative Copywriter – FCB Hong Kong

4As Advertising Agency
Partial clients include Hong Kong Tourism Board (Regional), New Zealand Milk (Regional), Samsung, Harbour City, Watsons Water